What's The Biggest Challenge That You Face In Your Business?
If you're like most owners, it probably relates to your time management and productivity.
Are you frequently experiencing stress because there's too much to do?
Do you often neglect critical areas of your business because you don't have enough time?
Are you tired of the constant "emergencies", crises and just getting by each week?
You're

not

alone, and there

is

an easy solution!
Discover how to manage your time more
efficiently and get more done each day!
As a business owner, you have a huge dilemma: there are just not enough hours in the day. You are busy, busy, busy, and work very hard, but you never have enough time to get everything done. You are finding it harder and harder to get ahead or feel that you've got things under control with the business.
Something has to change, but you are unsure what to do about it. So what is the answer?
Get control of your time, and get control of your business.
You really need to decide that you need to change what you're currently doing starting today. Right now.
You built your business up to where it is today and are doing everything you can, but it never seems to be enough. The business demands more of your time, energy and resources every day. You know what needs to be done, but never seem to just start doing it. Sound familiar?
The good thing is that you're not alone, and you can change this. Many small business owners just like yourself are having troubles with managing their time and getting things accomplished. And I have developed a solution to your problem that won't require a whole lot of work to implement and get results.
If you want a system that will allow you to overhaul the way you operate your business, discover new ways of managing your time and make true and lasting changes to your business and your life, then please continue reading.
Successful time management is a complex problem and there is no single quick-fix or bandage to apply and call it done. It is an ongoing process. If you have an deep understanding of the problem, what's behind it all, and are really motivated to change, you can benefit greatly from the information that I'm offering you today.
You need a detailed plan that gets
measurable results and works
for your unique business needs.
You'll also need a real commitment, a strong reason to change, establish some new habits and dedicate yourself do the work every day to get the results you want. 
Let me ask you this: Do you have fifteen minutes a day
to invest to make your business run more efficiently?
Then You'll Love My 30-day System
To Help You Help Your Business!
You need to STOP just getting by and
start achieving your true potential!
I know that time management is a real challenge for you and that it's something that you wish you had more control over. So think of how it will be for you when you have control of your business again. Think about how happy you'll be to have the time to do the things that you want to do - in your business and in your personal life.
You've been putting things off  for far too long. If you don't make a change in what you're currently doing you will continue to be stressed, overworked and frequently overwhelmed. You also run the risk of damage to your health, relationships, family and the business that you've work hard to build.
Not long ago I was in your same position: always stressed, worried, and downright unhappy because my business kept demanding more and more of my time. The harder I worked, the more needed to be done.  Frequently, I would wake up at night with my teeth clenched and fists balled up because of the enormous pressure and stress of daily operations, regulations, payroll, marketing, and management of a busy online printing business.
It had to stop. Something had to change.
First, I began to explore simple ways to get back small chunks of "wasted time". Second, I used that time to do the high-level planning and strategy to free up more time to increase efficiency and productivity. I eliminated the wasteful and trivial and concentrated on the productive and profitable. I made a real commitment to make the business work for me, instead of always working for the business.
It wasn't an overnight change or success. A little forward motion became momentum, which led to renewed energy and excitement about the business. This resulted in leveraging that excitement and energy into making sound decisions and seizing opportunities that were all around me.
The business became a success, and I got what I wanted from it. Was it easy? No. Did everything work out perfectly? Absolutely not. But having a business is not for the faint of heart and you have to keep picking yourself up and moving on when obstacles are thrown your way. You know exactly what I mean.
After I sold the business I began helping small business with their marketing and organization. I noticed that they suffered from the same issues that I had experienced years earlier, including efficient use of their time and getting more accomplished each day.
So I wrote a plan for my clients with a simple workbook to help them solve this dilemma, and it worked wonders for them. With just a few simple tweaks in what they were doing they began to start seeing results right away. And with the momentum and renewed energy they began to really make progress in understanding and managing their businesses.
Specifically written for small business owners that are doing what they can to keep the doors open and the bills paid, the skills they learned made a huge difference in how they approach their business, only takes a few minutes a day and it really works.
What Would You Do If You Had More Free Time Right Now?
Spend more time with friends and family
You would probably say that the most important thing in your life is your family and friends. So why - if they are the reason that you work so hard - are you not figuring out how to spend more quality time with them on vacations, travel, camping or just being there?
Work more on the business instead of in it
When you spend most of your time as the technician, there's hardly any time to be the boss. Do you even know what you really want from your business? if so, what are you doing to make it happen?
Plan for future growth and expansion
You cannot make the hard decisions, strategies and planning when you're inundated with the day-to-day operations and tasks necessary to keep the doors open and the bills paid. Don't you wish you had the time to make your ideas and plans a reality?
Take care of those projects you've neglected
We all have projects and plans that never seem to get started because there's always something more important that has to be done. Getting those things done that have been hanging around would be a huge thing, wouldn't it?
If you could gain back - though efficiency or eliminating the wasteful - as little as a half an hour each day it would equal three weeks of time saved in a typical work year (of about 250 work days). What would you do if you had three extra weeks next year?
Are you ready to solve one of the
biggest issues and challenges
you face in your business today?
I've developed an easy-to-follow, easy-to-use system for my clients to help them solve this dilemma, and it has worked wonders for them. With just a few simple tweaks in what they were doing they began to start seeing results right away. They started getting things done. Projects and goals that had sat were now completed. This led to excitement about their business again, and with the renewed energy they began to make true progress managing their businesses.
Specifically written for small business owners that are doing what they can to keep the doors open and the bills paid, the skills they have learned has made a huge difference in how they approach their business, and it only took a few minutes a day. By taking small steps that yield big rewards they have began to overcome their challenges and enjoy the relief and satisfaction of having a real plan going forward.
Many businesses could benefit from this information
Service-oriented business: landscapers, carpet and tile cleaners, small repair facilities and custom painters have already benefited greatly from these techniques, as will any business where the owner is also the main technician or operator.
Other in-home service business like pest control companies, alarm installers, house cleaners, house painters, handymen, window washers, auto detailers, appliance installers,  mobile repair shops, and computer services.
Plus any entrepreneur, virtual company, work-from-home business including traditional brick-and-mortar businesses where the owner does everything would benefit immensely by utilizing better time management and productivity skills and techniques.
If you're ready to make BIG CHANGES in your business beginning TODAY then you need to get this NEW
30-DAY TIME MANAGEMENT SYSTEM

Easy Solutions For Busy Entrepreneurs & Business Owners
Downloadable E-book & Workbook
I think that I have developed a realistic solution to help you solve your time management problems quickly and easily. Your time is limited, and I know that. Specifically designed to work with an investment of as little as fifteen minutes of your time, which I think is a small price to pay to help you solve a big problem.
If you read and follow the advice and concepts in the book, plus do the daily exercises in the workbook, you will make great strides in your time management and productivity in your business. Guaranteed. If you are unhappy with the information provided I'll give your money back.
What's In The Book:
Chapter One: Change Your View
Chapter Two: Who's In Charge?
Chapter Three: Understanding Time
Chapter Four: Change Your Mindset
Chapter Five: What Is Most Important To You?
Plus ten more chapters of valuable information!
Why You'll Love The Workbook:
Small, easy steps to follow

Simple exercises and actions for each day
Helps you establish positive habits and routines
Defines your specific goals and objectives
Identifies your unique motivation to change
Simplifies complex projects and objectives
Provides a plan for your immediate future
in as little as 15 minutes a day!
PLUS 1-on-1 coaching to help you stay on track:
If you choose this option, you'll receive the added benefit of five 30-minute coaching calls to help keep you motivated, accountable, and to stay on track with your goals and objectives. Usually priced at $60 per session, I've included this valuable bonus at a special price to help business owners for a limited time only.
Book + Workbook
LIMITED TIME! Price goes up July 1st
What You'll Get:

The 30-Day Time Management Book

45-Page Daily Workbook (printable PDF)

Full 45-Day Money Back Guarantee

Reg. $24.95 Now Only $14.95
Book + Workbook + Coaching
Best Value! - Includes 1-On-1 Coaching
What You"ll Get:

30-Day Time Management Book

45-Page Daily Workbook (printable PDF)

One 1/2 Hour Coaching Session A $60 Value

Save 40%

–

 

Now Just $49
Book + Workbook + Coaching
Includes FIVE Coaching Calls - A $300 Value!
What You'll Get:

30-Day Time Management Book

45-Page Daily Workbook (printable PDF)

FIVE 1-on-1 Coaching Sessions (Reg. $300)

You Save Over $75
What people are saying about the
30-Day Time Management System:
"I've read a few time management courses, a few "how to change your mindset for success" etc. but have not found any laid out in the way that Ken has done… a course that teaches how to treat your business like a business and not a hobby. To get and stay focused on the end goal, and how to allow "fun" while still getting your goals completed without feeling you've wasted your day.
The workbook is 46 pages and will allow you to do the daily tasks that will help you find the success you want and the time that has slipped away from you. Short assignments done in bite-size pieces will lead to big things!"
"In the two books of the course you'll find a lot of good tips not only for time management but also for the psychology behind it. One premise of the author is that time management is really self-management. You'll find principles that will overlap into other areas of your life besides your business to help you live a successful life.
To me the key that gives the most value is the Workbook. What the workbook does is take you step by step through how to apply the lessons taught throughout the entire series.
If you get this and apply yourself to completing the lessons I'm confident this will deliver it's promise to help you manage your time better and be more productive. And, in the process, you'll learn a lot more about yourself and your business."
"I've read a few self-improvement e-books, and with most you get that same feeling - blah, blah, blah, get rich quick or do this thing - where you can skip ahead. Not with this one. 30-Day Time Management is keeping me interested, making me think, and showing points that many people may overlook with those blinders on."
Don't miss this unique opportunity to save time and money for

your

business!
You've got NOTHING to lose, and EVERYTHING to gain by purchasing the 30-Day Time Management book and workbook at a special price and for a LIMITED TIME ONLY. Get it now for an introductory price before the price goes up in July.
I KNOW that this information will be very valuable to you, and my NO-RISK 45-DAY GUARANTEE should convince you that I am committed to your COMPLETE SATISFACTION in what I am offering you today.
Full 45-Day 100% Satisfaction Guaranteed.
As a small business owner are you
plagued by these common issues?
You're trying to do too much.
You know what needs to happen but just can't get started.
You have no written or set plan for the future.
You're challenged by self-discipline or accountability issues.
Working more than you'd like in the business instead of on it.
You're always "fighting fires" instead of doing what's really important.
There are simple solutions to all of these situations and circumstances!
By learning and using new skills,  proper planning and a solid strategy to get
there you can easily set your unique business goals and achieve them.
Discover how to overcome these issues and more!
Get the 30-Day Time Management System Today.
Get more organized and free up more time.
The ability to stop fighting fires, managing crises, and handling emergencies by anticipating and becoming more proactive. 
General time management techniques that are tailored to your specific business needs.
See your business from an outside view and come up with top-down solutions.
"I never cease to be amazed at the power of the coaching process to draw out the skills or talent that was previously hidden within an individual, and which invariably finds a way to solve a problem previously thought unsolvable." – John Russell
Take Action Today and Save Over 40%! For a limited time, you can get the 30-day Time Management System PLUS a valuable 1-on-1 Coaching Call With the Author:
Now Only $49
Why Is Coaching Important?
Think of a business coach in the same way as a sports coach or fitness trainer that helps you realize hidden potential, talent, or just spot bad form in the way you're doing things. In the context of coaching to help you with your time management and productivity, coaching could benefit you in the the following ways:
Helping you to work through problems and limiting beliefs.
Talking through situations and strategies.
Recognizing "blind spots" that you may have.
Support to help you reach your goals and objectives.
Increased confidence to make bold moves and decisions.
Another big plus for thinking about a business coach is accountability. A good coach will hold you accountable for what you are and are not doing. To call things as they see them. To tell you the honest truth that others may be afraid to.
But most of all, wouldn't it be nice to have the ear of someone who has "been there, done that" and truly has your best interest at heart with no hidden agenda? Someone who not only listens to your struggles and challenges but offers support, sympathy and solutions to help you succeed? If so, I encourage you to consider including coaching as part of your time management success plan.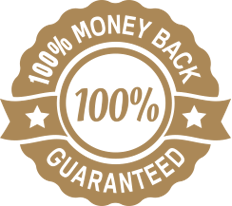 100% Satisfaction Guarantee
You are fully protected by our NO RISK 45-Day 100% Satisfaction Guarantee. I am convinced that this system works and will greatly improve your personal time management and productivity. If you read the book and use the workbook and feel that you are not satisfied for any reason, just let us know within 45 days of purchase and we'll send you a prompt refund.